Thank you so much for your involvement with the Owner's Club Forum! We hope you've gotten some great information and had the chance to interact with other owners on the current system.

New to me 2002 FD 196
Last weekend I picked up the set up. It needs some work but all in all seems to be a solid boat. It came with a Yamaha 115 with about 500 hours, which may not be the biggest and best set up for the boat but it should be adequate. Took it out on the local lake and it ran strong at higher RPMs without any issues and the same goes for idling or trolling. I noticed that the speedometer, tachometer and trim gauges aren't working but the fuel and voltage gauges do. Also most of the switches don't work with the exception of the bilge and horn switches, it's possible that the push buttons on the left side of the console may be the cause since most are stuck pushed in.  There's a mount on the bow of the boat for a trolling motor but i'm not sure what the standard length is for deck boat trolling motors. Any help would be appreciated. The lights around the inside of the deck are all blown and seen better days, so I plan on replacing them with LED versions. And then there's some other electrical that needs cleaning up, like under the console and around the battery. The stereo is all but dead, it lowers and raises the volume when it wants so I picked up a new lower end stereo just to have music for now. Also picked up a new set of trailer lights since the ones on the trailer died by the time I hauled the boat home. Lastly, there's the upholstery that needs some attention. Some areas have red stains that I doubt will come out but i'd like to get something that will clean the things up as best as possible.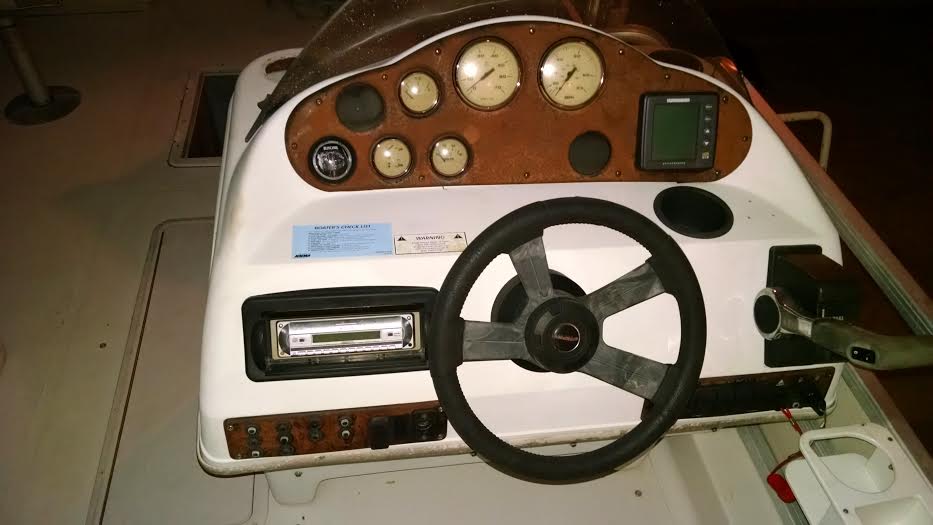 2002 FD196F/Yamaha 115

Comments