Thank you so much for your involvement with the Owner's Club Forum! We hope you've gotten some great information and had the chance to interact with other owners on the current system.

2018 Hurricane 226F FunDeck Motor Mounting Height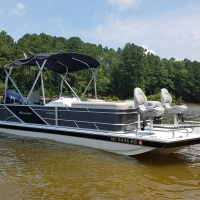 I have a 2018 226F FunDeck with a Yamaha 200 SHO on it. I have had five different props on this boat. With most of my use being water sports and cruising around I ended up with a 15 Pitch 4 blade. The motor spec at WOT says I should be between 5000-6000 rpm. I am at about 5100-5200 trimed out. I am now looking into the mounting height of this engine. The dealer installed it on the lowest mounting hole and when I asked about raising it up one when i bought it in for maintenance service this year they are saying it would not grab out of the hole we moved it up one mounting hole. I would like to know where other FunDeck owners have have the mounting bolts.
Comments