Thank you so much for your involvement with the Owner's Club Forum! We hope you've gotten some great information and had the chance to interact with other owners on the current system.

Bimini Top mounted Stern/All-Around light bracket PARTS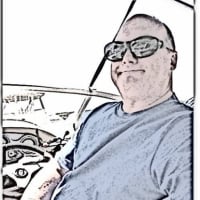 cjjjdeck
Northern NJ
Member, Moderator
Posts: 1,872
✭✭✭✭
I just want to share some research I went through in trying to find replacement parts for my stern/all-around light. 
While towing my boat, I found my stern light dangling by the wires.  Apparently, I lost the thumbscrew (knob) that secures the light fixture to the base and allows you to angle the light to a desired position while I was towing the boat to my vacation destination.  The base assembly was fine (not broken), just the knob/thumbscrew was missing which must have backed out.  I was hoping I could just get another knob/thumbscrew and not have to purchase an entire new base or have to find some other solution.  Here's what I found out:
Many Hurricane boats that have their Stern/All-Around lights mounted on their bimini top frame uses the Attwood Light Armor Horizontal Fold Down Light Base.  I contacted Attwood Customer Service/Technical Dept. and found out they do indeed have separate part numbers for many of their part assemblies, including the mounting base I was interested in.  The bad news is that Attwood being a manufacturer doesn't sell directly to the general public.  You have to purchase through dealers or distributors (very common situation).  Most of their dealers/distributor only stock complete assembled components (mostly due to the volume of parts they would have to purchase).  But luckily, he gave me the phone number of one of their dealers that stocks quite a number of individual parts and was able to order replacement knobs for the bracket, hallelujah! 
One important note, there is a plastic washer that goes between the back of the knob and the pivoting portion of the bracket in order for the assembly to operate properly.  You need to source this washer locally.
Below is the Attwood dealer to purchase parts through, below that is a picture the style light on my boat and a graphic that shows the part numbers for the base I'm talking about.  I also want to mention that both the Attwood and Back to Boating representatives were awesome to work with:
Back to Boating
backtoboating.com
720-239-2232
2012 SD237 I/O Mercruiser 5.0L MPI ECT/ Bravo 3
2012 Load Rite Elite Tandem axle trailer